A person's name is a part of his identity and a method of recognition. Our attitude towards names in general is so casual that we do not realise its importance in our daily lives. Imagine a world without names. It would be full of chaos and disorder.
It's a general practice to name a child shortly after they are born. But, it's not necessary to stay with the name you were given by your parents. The Indian government has a provision that allows a person to change their name for whatever reason they want to. Like a lot of other governmental procedures and processes, the process to change one's name is rarely used and because of this, the amount of information most people have on this is limited. This article is an effort to shed some light on the easy yet less known procedure to get your name changed.
Table of Contents:
How Do I Change My Name
The name change procedure can be divided into three steps.
STEP 1: Filing an Affidavit
All you have to do is go to a Notary Advocate and get an affidavit made in order to change your name. This affidavit must contain:
Your old name and your new name.

Your address.

The reason for which you are changing your name.
The reason why someone would want to change their name could be anything. For example, change of name after marriage, if you want to get a passport issued and your name does not have a surname, then you have to add a surname in order to go through with the process, you do not like your name or for any other reason that is valid as per the law.
If you do not know a lawyer you can contact MyAdvo and get online lawyer consultation anywhere in India.
STEP 2: Newspaper Publication
The court will order you to publish a notification of your name change in any 2 newspapers. One of these newspapers must be printed in English and the other should be in your local language. You are supposed to state your old name, your new name and address in this notification.
The reason behind giving this notification is that when you change your name, you file a case against the general public and the court invites objections from the public against this change of name. If anyone has an objection to your change of name, they can file it in a court of law to stop you from doing so. If there are no objections filed, then the applicant can proceed with the process. Objections are usually filed if a person has a criminal record. In such a case the Police Department will file an objection with the court if they find it necessary and stop the person with a criminal record from changing their name.
If no objections are filed within the stipulated time, the court will order you to produce evidence in support of your claim. You will give your evidence in the form of a statement stating your name and the name you want to change it to. Alongside this you will have to provide the court with your birth certificate and other documents stating your current name. You need to produce the original documents along with a photocopy of these documents attached as exhibits.
You also have to produce two witnesses supporting your evidence. First witness should be your father or your mother in his absence. The second witness must be the Municipal Commissioner if you live in a city or a town. If you live in a village, then you are required to produce the Sarpanch or a Lambardar of your area as the second witness.
Once the court is satisfied with all your submissions, it will pass a decree stating that your old name has been changed to the new name you had requested for and the documents you have submitted will now be eligible under your new name.
STEP 3
Once the above two steps are completed, you have to get the notification of your change of name printed in the official Gazette of your state or the national Gazette. To do so, you have to submit the affidavit you had given in the court earlier along with the decree and an application for the printing of your notification. The Gazettes are printed every month and your notification will be printed as soon as your application is processed. When the Gazette is published, your name is officially changed.
If you want to get your name changed on other documents you can do so with the help of your affidavit, newspaper notifications, court's decree in your favour and the Gazette publication. All you have to do is produce the certified copy of the decree wherever the need arises.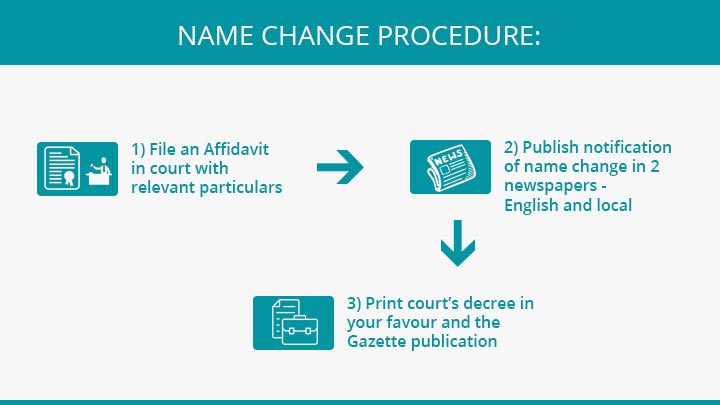 How to Change Name Online
The process to change your name has not been digitized yet. Only the Government of Maharashtra has partially digitized the process. You will have to follow Step 1 and Step 2 as stated above and for step three, that is, Gazette publication, they have an online portal. The steps for requesting publication in the Maharashtra State Gazette are:
Click on new user registration.

Register with the portal as a new user by entering all the required information.

If you already have an ID with your respective citizen service, then login to your id.

After logging in, go to apply and choose the Directorate of Printing and Stationery option.

Then select Gazette Part 2 for Change in Name and click on Proceed.

You will be redirected to Maharashtra's online Gazette portal.

Select the Gazette Advertisement (Change of Name) option.

A PDF file will open online. This file will contain the instructions and a form related to change of name.

Download the form and fill in the required details and go back to the page where PDF file was displayed online. Click on the I accept above conditions option and then click on Next to proceed.

You will be redirected to the next page where you will find a details and documents form.

Enter all the required details and upload all the required documents and pay the required fee through your preferred mode of payment.

As soon as you make the payment, your request will be submitted for processing and you can monitor its status using the ID you have created on the Citizen Services Portal.
Who Can Help You?
The procedure to change your name seems easy but the details and intricacies can be a little tricky. If you want to change your name smoothly, you can contact us at MyAdvo. We will provide you with all the necessary help and assistance and make the process hassle free for you.
At MyAdvo, we provide our clients with various kinds of legal and techno-legal assistance. With a network of 10,000+ lawyers, spread across 500+ districts in India, MyAdvo is one of India's leading tech-service providers. Not only do we let you find a lawyer anywhere in India online, we'll also educate you on various important legal issues. MyAdvo acts as a Client's legal concierge providing technology solutions for Lawyer Discovery, Price Discovery and Case updates. With the use of technological solutions, we match the client's requirements with the lawyer based on expertise, location etc. All you have to do is connect with us at support@myadvo.in or call us at +91-9811782573 and express your concerns right away and we'll look into the rest.
Written by: Vatsal Shandilya
National Law Institute University, Bhopal (3rd Year)