There can be more than one reasons for finding a new property, and while you are on the lookout for one, it's important to know all the documents to check before buying a flat from a builder or a house, plot or any real estate for that matter.
If you are buying or selling a property in metropolitan cities, make sure to keep all the documents to check before buying a resale flat ready.
Under Government Housing Schemes in India even, unless all documents to be verified before buying a plot are not presented for the land or plot you are allotted, no construction takes place. Documents need to be submitted while the house or apartment is under construction.
Even though the price and demand for properties are always hitting the roof there, people still struggle amidst the process of property selling & buying.
Consult: Consult Top Property Law Lawyers in India
Common Challenges During Property Buying Process
Buying property nowadays is not an easy task. It requires you to do a good research about the property you are planning to buy which is inclusive of all the necessary details about the property, like background, documents to check before buying a new flat, information about the owner, and to see if the property is not involved in any kind of dispute and more.
In India, the laws relating to the properties are generally dealt with the Transfer of Property Act, and the Real Estate Regulation and Development (RERA) Act, making it all-the-more necessary for you to go through the documents to be verified before buying a plot from a builder.
Under the RERA Act, the properties need to be registered with the RERA authorities in the particular state. RERA also makes it necessary for the builders to get their projects registered and gives a quick view on your behalf on all the major documents to check before buying a flat from a builder.
In order to know the difference between buying a property from a builder or any individual property dealer, make sure you research well about the property, so as to avoid any discrepancies and fraudulence.
So, before you venture out to buy any property anywhere in India, it's important that you consult a good property lawyer or a real estate lawyer near you. He/she can help you with documentation and application procedures efficiently.
They will thoroughly assess all the documents to check while buying flat for you and ensure that no contractor or builder cheats you and ensures that you get the best deals, as he/she can assist you in terms of what papers are needed for an ongoing construction or a ready-to-move-in apartment.
In today's scenario, living in a money-oriented society calls for many problems and feuds between families, give opportunities to builders and real-estate developers to fool their clients and commit frauds.
Related Read: Sale Deed in India
What Are the Ways to Make Property Purchase Simple?
In order to avoid such problems from coming up in future, always conduct a brief research of all the property documents checks before buying property or selling one in metropolitan cities or any other urban or suburban cities.
Below you can find the list of documents required before buying ownership flat or of any other property. Whether you are buying it from a builder or from some Gram Panchayat of a state, it's advised that you consult someone for a better understanding of the following requisites:
The title deed is one of the most important document to verify before buying a house or anything else that helps in signifying the actual ownership of it. It also states the rights and obligations of the owner along with the rights of a mortgage, if at any time required by the owner.
Construction Clearance Certificate or Commencement Certificate:
This document is required when you are buying any ongoing construction property from a builder. Commencement Certificate is one of the important documents to check before buying a flat from builder or land, house, etc., which states that the construction has commenced only after getting the approval, license and permission from the local authorities.
Building Approval Plan or Approved Layout Plan:
Approval Plan is necessary as it states that a building in which you are planning to purchase a place of residence, should be approved by the local authorities and there are no issues related to it.
No Objection Certificate or NOC:
The certificate of No Objection is one of the crucial documents to check before buying a flat from builder which is issued by the concerned local authorities stating that there are no such discrepancies in the present plan and it can be duly executed. It works as an evidence in showing that the project or the building is approved by the authorities and no objections are raised related to the construction of it.
A land use certificate is mandatory, as it states the purpose for which the land is to be used. On the basis of the use of land, the land is also divided into three categories.
For example, in Karnataka, there are a few areas, where there are regulations for documents to check before buying agricultural land. The purpose of the land should be clearly mentioned in the land use certificate, which specifies the type of land and the activities that could take place on that particular land. Therefore, the papers you require in Karnataka and any other state may differ from the documentation process of other types of lands. As you cannot use the commercial land for the residential purpose and in the very same way, you cannot carry out any commercial activity on the agricultural land.
Encumbrance Certificate helps in ensuring that the property is free from any kind of dispute over its title and there is no loan or mortgage against it which the buyer is intending to buy.
After completion of the project, one should make sure that documents to be verified before buying a house are complete and further, the builder has to apply for the building completion certificate.
Occupancy and Possession Certificate:
This certificate is issued by the local authorities. It is issued only after the completion of construction of the project. This ensures that the building is fit for occupation purpose and can be possessed by people who are purchasing the property.
The above-mentioned formalities are very important and making a checklist of these documents to check before buying a flat from builder helps you in easily differentiating on what records you have and what you should get from the builder during the purchase.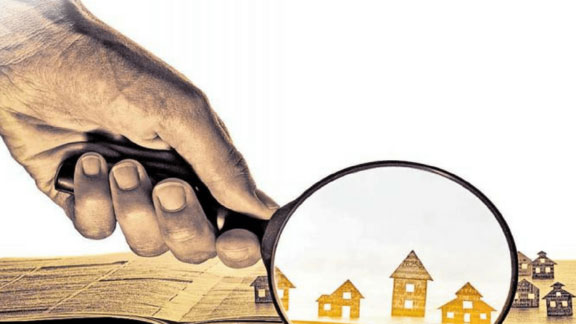 Suggested Read: Purchase and Registration of Immovable Property in India
What All Official Papers to Check Before Purchase?
In metropolitan cities often see new tenants coming and going, since their job takes them places. Since the struggle is first to find a place which is close to the office and next is to see how tight it is in the pocket.
To strike a balance between the two is very difficult and in such cases, many of the newbies neglect to see the documents to be checked while buying a flat in Bangalore or while looking for one near you. All thanks to the new MNC life of youth, buying an apartment in a metro city has become immensely traumatizing.
Like for example, if you are looking for a home to buy in Mumbai, a city where the real-estate prices are always soaring high, the process of buying a home begins with listing out various official papers. Here it becomes essential for you as a buyer to thoroughly see all records before purchasing a new flat, as well as or a resale one. The amount of effort it takes to find the suitable realty there is competitive, because of the high demand and lack of availability.
Property is a vast topic which needs careful and undeterred attention when you talk about the process of buying and selling of flat, house, land, plot, etc.
There are some other requisites also that need to be duly verified before any realty purchase. For a better understanding of these official papers, let's have a look at them. The documents to be verified before buying a flat, house, land, plot, etc. are listed as follows:
Sale deed

includes all the necessary details about the buyer as well as a seller of the

real-estate possession

. When sale deed is executed, only then the sale of a possession becomes final.
Also known as the parent document of a real estate. The Mother Deed of it helps in knowing the actual origin of the property and act as an essential document in case of resale property.
The Conversion Certificate is issued from the competent revenue authority on the request of the revenue authority to convert the land for non- agricultural purpose. It is generally issued to convert the agricultural land to non-agricultural.
The term Khata means account. In case you are transferring property from one person to another, Khata Certificate is necessary for such transactions.
Through the Power of Attorney, a person appoints another person to act on their behalf. He legally authorizes the appointed person by the way of either General Power of Attorney or the Special Power of Attorney.
Apart from all necessary papers, receipts of the tax paid by the owner of the property play a vital role. The taxes that are levied on it are property tax, house tax and other taxes that are levied by the Municipality.
Top Read: Comprehensive Protection to the Property Buyer against Delay in Property Possession
How Technology Is Helping in the Real Estate Industry?
Thanks to the urban population of India while everything seems to be available on the digital medium, nowadays, one can even buy property online. To check the status of it online, you can maintain a checklist of documents to check before buying a flat from the builder and there are a few points that you should keep in mind.
However, how helpful the Internet has been in our lives, it is also an accountable reason for property frauds. Undoubtedly, property matters are hectic and involve a lot of hassle. However, a big thanks to technology, you can now easily view documents to check before buying a flat from builder online on respective state government websites.

Like for example, you are looking for a place of residence in Pune through an online portal. Convinced of the images and details provided, you talk to a builder or broker and fix the deal. In the end, you end up investing in a disputed property because you didn't verify the property documents. Check before buying property in any city or locality near you.

With less knowledge and impulsive action, you can often lead to making a regretful decision, and to avoid this, always ask for necessary papers and get them verified through the help of a good lawyer.
Therefore, you need to make sure that even if you are looking at a resale flat in Hyderabad, you ask for all the documents to be verified before buying a resale flat in the city or anywhere else in India.

Or you can do is log on to the National Land Record Modernization Programme, where the government has made it easy for a person to verify the documents to check before buying a flat from a builder or before buying any kind of reality.
However, you can only verify property papers of the states that maintain the records online and there is a specified procedure that needs to be followed if you want to verify the property papers online. This includes:
Visit the official property record page of the state, in which you are willing to invest in a property.

For a detailed information of the property, select the year, district and name of the village (if any).

Then, enter the property number, Survey number/ CTS number/ Milkat Number/ Gat Number/ Plot No. according to your area of search.

Fill in the required slots and proceed till your information will be displayed.
Property is a very valuable asset that a person holds. Owning a lot of properties also gives a person, a glorified status in the society but this comes with various responsibilities too.
Further Read: RERA: How it impacts buyers
Who Can Help Best in This Process?
There are many documents to check before buying a flat from a builder or even if you choose to buy any other property by directly engaging yourself in the process of its purchase. You can

consult an expert

at

MyAdvo

at

consult@myadvo.in

or connect with the team at +91-9811782573.
We will make sure that you

get the best lawyer

and

legal advice
,

who will assess the property location and ensure that you get a genuine deal at the prevailing price in the market and educate you on the various Indian Laws, legal topics through our blogs and legal news download the

lawyer App

on your phone.
Stay connected, stay informed!